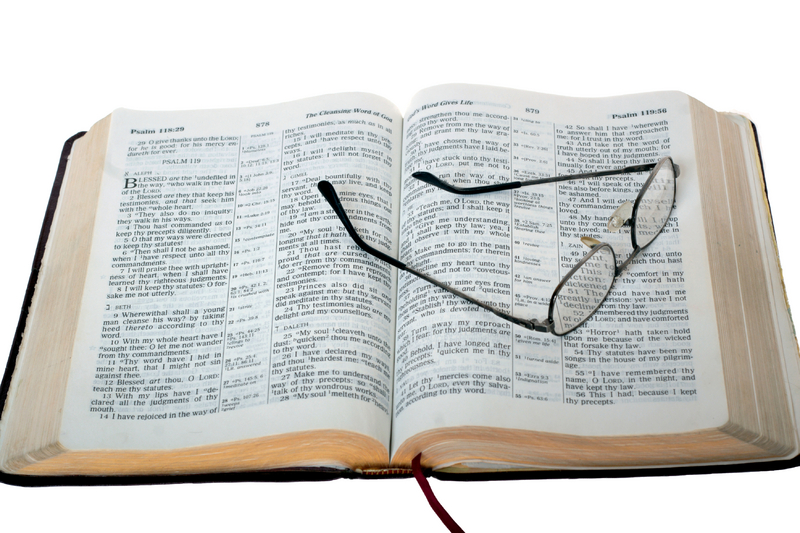 Copyright Photographer: /Agency: Dreamstime.com
"Study to shew thyself approved unto God, a workman that needeth not to be ashamed, rightly dividing the Word of Truth." II Timothy 2:15
"God is not looking for brilliant men, is not depending upon eloquent men, is not shut up to the use of talented men in sending His Gospel out in the world. God is looking for broken men, for men who have judged themselves in the light of the Cross of Christ. When He wants anything done, He takes up men who have come to an end of themselves, and whose trust and confidence is not in themselves but in God." ~H.A. Ironside
"Nothing is more needed among preachers today than that we should have the courage to shake ourselves free from the thousand and one trivialities in which we are asked to waste our time and strength, and resolutely return to the apostolic ideal which made necessary the office of the diaconate. We must resolve that we will continue stedfastly in prayer, and in the ministry of the Word." ~ G. Campbell Morgan
"The heart makes the preacher. Men of great hearts are great preachers. . . We have emphasized sermon-preparation until we have lost sight of the important thing to be prepared -- the heart. A prepared heart is much better than a prepared sermon. A prepared heart will make a prepared sermon...It would not do to say that preachers study too much. Some of them do not study at all; others do not study enough. Numbers do not study the right way to show themselves workmen approved of God. But our great lack is not in head culture, but in heart culture; not lack of knowledge but lack of holiness is our sad and telling defect -- not that we know too much, but that we do not meditate on God and his word and watch and fast and pray enough. The heart is the great hindrance to our preaching. . ." ~ E.M. Bounds
"The great reservoir of the power that belongs to God is His own Word – the Bible. If we wish to make it ours, we must go to that Book. Yet people abound in the Church who are praying for power and neglecting the Bible. Men are longing to have power for bearing fruit in their own lives and yet forget that Jesus has said: "The seed is the Word of God" (Luke 8:11). ~ R.A. Torrey
"The scriptures are given not to increase our knowledge, but to change our lives." ~ Dwight L. Moody
The Bible is the inerrant Word of God. Its sixty six books are not a collection of religious writings, advancing certain theories, but they constitute one body, breathing with life and power. From the first verse in Genesis to the last verse in Revelation there is a wonderful continuity of thought, without any clash of opinion; all is a harmonious whole. This fact necessitates one great Author, One who guided the thoughts of each writer and who is instructed them to write as they did. This guiding and supervising Author is the Spirit of God."... 2Timothy 3:16, 2 Peter 1:21 ~ Arno C. Gaebelein

"Let us never doubt for a moment, that the preaching of Christ crucified – the old story of His blood, righteousness, and substitution – is enough for all the spiritual necessities of all mankind. It is not worn out. It is not obsolete. It has not lost its power. We need nothing new – nothing more broad and kind – nothing more intellectual – nothing more effectual. We need nothing but the true bread of life, distributed faithfully among starving souls. Let men sneer or ridicule as they will. Nothing else can do good in this sinful world. No other teaching can fill hungry consciences, and give them peace. We are all in a wilderness. We must feed on Christ crucified, and the atonement made by His death, or we shall die in our sins." ~ J. C. Ryle

Links to sites for online Bible Study
II Timothy 3:14-4:5 But continue thou in the things which thou hast learned and hast been assured of, knowing of whom thou hast learned them; And that from a child thou hast known the Holy Scriptures, which are able to make thee wise unto salvation through faith which is in Christ Jesus. All Scripture is given by inspiration of God, and is profitable for doctrine, for reproof, for correction, for instruction in righteousness: That the man of God may be perfect, thoroughly furnished unto all good works. I charge thee therefore before God, and the Lord Jesus Christ, who shall judge the quick and the dead at His appearing and His kingdom; Preach the word; be instant in season, out of season; reprove, rebuke, exhort with all long suffering and doctrine. For the time will come when they will not endure sound doctrine; but after their own lusts shall they heap to themselves teachers, having itching ears; And they shall turn away their ears from the truth, and shall be turned unto fables. But watch thou in all things, endure afflictions, do the work of an evangelist, make full proof of thy ministry.
II Peter 1:2-12 Grace and peace be multiplied unto you through the knowledge of God, and of Jesus our Lord, According as His divine power hath given unto us all things that pertain unto life and godliness, through the knowledge of Him that hath called us to glory and virtue: Whereby are given unto us exceeding great and precious Promises: that by these ye might be partakers of the divine nature, having escaped the corruption that is in the world through lust. And beside this, giving all diligence, add to your faith virtue; and to virtue knowledge; And to knowledge temperance; and to temperance patience; and to patience godliness; And to godliness brotherly kindness; and to brotherly kindness charity. For if these things be in you, and abound, they make you that ye shall neither be barren nor unfruitful in the knowledge of our Lord Jesus Christ. But he that lacketh these things is blind, and cannot see afar off, and hath forgotten that he was purged from his old sins. Wherefore the rather, brethren, give diligence to make your calling and election sure: for if ye do these things, ye shall never fall: For so an entrance shall be ministered unto you abundantly into the everlasting kingdom of our Lord and Saviour Jesus Christ. Wherefore I will not be negligent to put you always in remembrance of these things, though ye know them, and be established in the present Truth.
READING THE BIBLE by J. C. Ryle
1. READ THE BIBLE WITH AN EARNEST DESIRE TO UNDERSTAND IT. Do not be content to just read the words of Scripture. Seek to grasp the message they contain.
2. READ THE SCRIPTURES WITH A SIMPLE, CHILDLIKE FAITH AND HUMILITY. Believe what God reveals. Reason must bow to God's revelation.
3. READ THE WORD WITH A SPIRIT OF OBEDIENCE AND SELF-APPLICATION. Apply what God says to yourself and obey His will in all things.
4. READ THE HOLY SCRIPTURES EVERY DAY. We quickly lose the nourishment and strength of yesterday's bread. We must feed our souls daily upon the manna God has given us.
5. READ THE WHOLE BIBLE AND READ IT IN AN ORDERLY WAY. "All Scripture is given by inspiration of God and is profitable." I know of no better way to read the Bible than to start at the beginning and read straight through to the end, a portion every day, comparing Scripture with Scripture.
6. READ THE WORD OF GOD FAIRLY AND HONESTLY. As a general rule, any passage of Scripture means what it appears to mean. interpret every passage in this simple manner, in its context.
7. READ THE BIBLE WITH CHRIST CONSTANTLY IN VIEW. The whole Book is about Him. Look for Him on every page. He is there. If you fail to see Him there, you need to read that page again.
Please note: I am not endorsing everything on these sites; you must use discernment when visiting any website (Acts 17:11).